What is an NLP Practitioner?
Maybe you've heard of the term NLP Practitioner but you're unsure of what it actually means.  Below you will find provide clarity and understanding of what an NLP Practitioner is and what they do.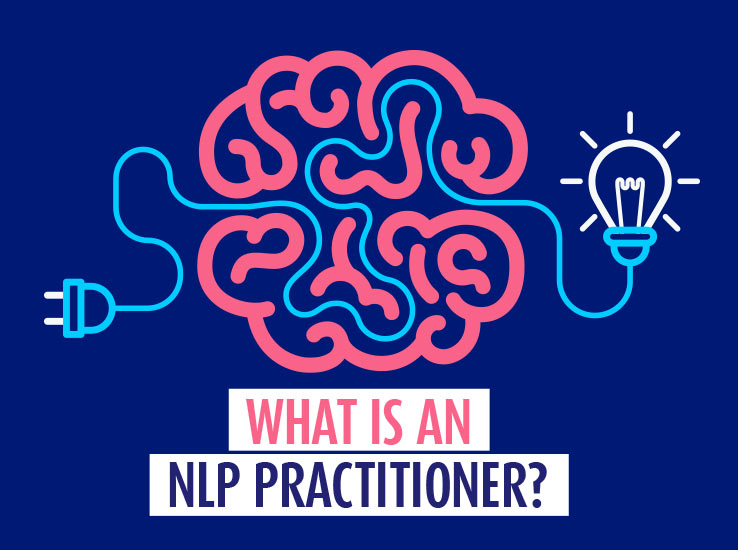 So what is an NLP Practitioner?
Before we dive into what an NLP Practitioner is, let's answer what NLP actually means.
Neuro-Linguistic Programming (NLP) is the practice of studying and understanding the ways in which we think, feel and communicate, as well as the structure behind our behaviours and language. It enables NLP Practitioners – the people who study NLP – to follow a methodology that enables the Practitioner to understand how we organise our thinking and feelings based on the way in which we filter, perceive and absorb information from the world around us.
As a result, NLP is used to understand the way in which we think, feel and behave – and crucially, how these thoughts, feelings and behaviours can be changed.  Due to its ability to quickly get to the core of what's happening for someone, NLP has become an integral element of the personal development space as well as in business coaching and training around the world.
We tend to communicate our feelings unconsciously  through facial expressions, the words we choose and the language we use, along with the tone and volume that we speak with. What NLP Practitioners learn to do, is to identify and recognise these clues in order to gain an understanding of the experience of their clients. NLP Practitioners can also identify restrictions and limiting beliefs that the client has placed on themselves by understanding their clients' "internal mental map" and by working closely with their clients, help them take steps in the right direction.
An NLP Practitioner – through adopting the NLP methodology – is able to help people in many varied  walks of life.  An NLP Practitioner is able to help people access their full potential in order to help them achieve the results that they truly want. NLP Practitioners are certified by one of several NLP certification bodies such as INLPTA, ABNLP, NLPEA and ANLP which ensures that they meet professional standards as well as a level of expertise and skill. 
The regulatory bodies provide many services, as well as ensuring that NLP Practitioners meet the necessary ethics and standards through certified training courses.  As a result, this enables NLP Practitioners to offer high-level NLP coaching and to help individuals face the challenges that have been holding them back, enabling people to reach their important goals in life.
NLP Practitioners come from many different walks of life, and through completing their Practitioner Certification, they learn the skills and techniques to provide "just the right level" of coaching for each individual, and to really "meet them where they are at", helping them in many different areas of their lives.
One of the most common things that NLP Practitioners possess, is positivity and a drive to improve the world. Building on that, NLP respects, celebrates and embraces the differences and similarities that unite us. Whether you are thinking of becoming an NLP Practitioner or you're thinking of hiring one, the possibilities that are opened up through NLP is wide, varied and profound. 
What Does an NLP Practitioner Do?
NLP Practitioners have undergone certified training and studying in order to become qualified as a Practitioner. Through their training, they have the scope to understand the ways in which individuals communicate their feelings unconsciously. There are many different signs that they can use such as facial expressions and language as mentioned above, along with body language. Using these subtle signs, they are able to 'decode' the feelings that a client is experiencing, helping their client understand their feelings, and giving them the tools to be able to overcome the feelings and challenges that are preventing them from moving forward.
An NLP Practitioner is able to help people deal with negative thoughts and feelings of hopelessness, worthlessness and helplessness, and thus help their clients accomplish new and life changing goals. 
Qualifying as an NLP Practitioner
For anyone looking to become an NLP Practitioner, they will need to complete the NLP Practitioner Certification which is a professional and internationally recognised qualification. Once individuals have qualified as an NLP Practitioner, they will be able to leverage this new knowledge and skill, taking on professional roles with the updated aims of providing assistance and guidance for individuals across many different areas and disciplines.
NLP is self-regulated much like the coaching space, and thus, there are many different bodies that are recognised globally such as ANLP, NLPEA, ABNLP and INLPTA. The bodies have the aim of ensuring that professionals can access membership, as well as setting the required standards and ethics that have to be followed when working as an NLP Practitioner. In addition to this, they also accredit and recognise the relevant courses which makes it easier for individuals to determine which courses are the right ones. Courses are provided by qualified NLP trainers and once NLP Practitioners have passed their qualification, they will have a recognised NLP Practitioner certificate, as well as also apply to be a member of a number of professional bodies, some of which are mentioned above.
The NLP qualification is obtained after a period of study and then successful completion of the NLP Practitioner training course. The duration of these courses varies. I run my courses as a week long retreat in Ibiza, and as a 90 day Online course and membership called ARISE. Part of my role as a trainer is to assess NLP Practitioners to determine that they are competent enough to carry out the role. Trainers  adopt a blend of ongoing assessments and latter stage final  assessments to determine that the individual is capable and competent of becoming an NLP Practitioner.
As the certification is recognised around the world, it means that it can be accessed from anywhere. It is a highly popular career and practitioners are sought after because of the way in which they have the scope to assist people in many different areas of their life.
What is the Profile of a Typical NLP Practitioner?
There is no set profile of a typical NLP Practitioner as so many different types of people study for the qualification. NLP Practitioners come from many different backgrounds, but all look to learn and develop the skills necessary to live a powerful and integrated life.  One attribute that individuals possess is the attitude to be willing to learn, and another common attribute – as mentioned above – is a desire to make the world a better place.
Many will choose to start their own businesses, working as either a full-time or part-time coach while others might choose to implement their newly found skills in their chosen workplace such as schools, sports and even sales.
NLP is unique, as anyone and everyone can take it upon themselves to study to become a NLP Practitioner. If you have a desire to help people understand more about themselves and the decisions they make, as well as to understand your own feelings more, then becoming an NLP Practitioner is a compelling option.
How Can Becoming an NLP Practitioner Help You?
When you become a qualified NLP Practitioner, you will have a range of skills that will enable you to excel in many different areas. You might look to provide assistance in specialist mental or physical performance, and you might look at covering communication, as so much of communication relates to language and how we use it. One thing to consider is the scale and with who you want to deliver your NLP skills to.  Working with top-level individuals in business or high level performance sports are some options as is working with people who are homeless and living with addictions. NLP Practitioners can help all of these. 
One commonality is that NLP Practitioners often work in areas that they are familiar and experienced with. So, someone who might have experience from working in the health service, might choose to coach and assist those who are suffering from stress and mental health issues – either patients themselves, or the staff working in the health service. In contrast, someone from the the world of sales might choose to become a sales coach or help people understand their goals and how to reach them. As a NLP Practitioner, specialising in an area that you are familiar with you makes you aware of the problems that your clients  might be facing, and it is this experience that allows you to provide a tailored experience that really helps the client to understand where they are coming from, and thus to get where they are going to much more quickly. 
These skills will develop over time and the NLP Practitioner qualification is just the starting point. Once you begin working with clients and understanding more about the different personalities and issues, you will then begin to recognise just how important being an NLP Practitioner really can be.